January 22, 2020 | 12:45 PM
3 Signs of Climate Progress in 2020 that Have Nothing to Do with the Election
We'll cut right to it: 2020 is shaping up to be the most decisive year for our climate well, ever.
The stakes couldn't be any clearer – or more painful. If the fact that we've just wrapped up a run of the five hottest years on record in the hottest decade on record doesn't move the heart, just look at Australia, where heat and drought-fueled bushfires seem to cross a new threshold of tragedy almost daily. Already, we've seen over 16 million acres burned, at least 29 lives and more than 2,500 homes lost, and residents of the country's biggest cities inhaling the worst air on earth, thanks to the smoke.
In case continent-wide disaster isn't enough, there's the all-but-unanimous voices of climate scientists worldwide, quietly screaming in the objective-ese of official reports of the catastrophe-as-new-normal ahead if we don't change course and halve emissions by 2030.
If we do, chances are, we'll look back to 2019 as the year it all started.
Because whatever happens, 2019 was the year the world finally woke up to the reality of the climate crisis. Climate awareness and more importantly action went mainstream in a way we've never seen before. Millions of young people and adults filled streets worldwide in climate strikes demanding politicians get serious. Sixteen-year old Greta Thunberg became Time magazine's youngest-ever person of the year. Oxford University Press – publisher of the definitive guide to the English language, the Oxford English Dictionary – declared "climate emergency" the word of the year. Big-name artists like Billie Eilish gave climate anxiety a haunting beat filling hundreds of millions of listens. The list goes on.
In 2020, we see what difference this makes. Does changing how we talk about the crisis change what we do? How does culture change in response to climate change? Will world leaders listen to the world in the streets?
While it's easy for many Americans to think the US election is the only event that matters this year, the better answers might actually come in places that don't show up on Wolf Blitzer's maps. 
No crystal ball here, but here are three indicators we're watching beyond the US election to see if 2020 can be a turning point on climate.
1. COP 26

If it's too much to say that world leaders will decide the future of the Earth over two weeks in Glasgow this November, the truth is at least heading in that direction.
That's when politicians and negotiators meet for the UN's COP 26 climate conference to work out the next steps in the Paris Agreement process. And before you roll your eyes and reach for the remote, this one really, really matters.
That's because when negotiators designed the Paris Agreement, the plan was for countries to make their first commitments (aka nationally determined contributions or NDCs) to emissions reduction and climate action in 2015.
Negotiators recognized that getting nearly 200 countries to the table and getting everyone from wealthy Western nations to small island states to make the truly ambitious pledges it will take to hold warming to 1.5 degrees would be tough, if not impossible.
"Get everyone in the door. Embrace the practical now and aim for the aspirational later. The first round of pledges won't get us to 1.5 degrees, but the next round could."
Or so the thinking went. More or less.
As part of that process, countries are supposed to submit new – and ideally increasingly ambitious – NDCs every five years. As clean energy technology keeps improving and getting cheaper – and the threat of a warming world becomes apocalyptically clear – countries are supposed to up their game and start making the commitments that actually can stop global warming.
The first of those five-year windows is this fall. Already, few countries are meeting their current (and woefully inadequate) commitments and global emissions are heading entirely the wrong way, rising 4 percent since the Paris Agreement was reached in 2015.
COP 26 is our chance to make a real course correction. We're simply out of time for half-baked promises waiting for next time for the tough calls. If countries see millions marching in the streets again and the US re-engaging, we have the chance to force strong pledges and renewed commitments capable of meeting the 1.5 degrees target.
But with just 10 years to not just turn emissions around, but cut them in half, we have to start now.
2. Climate Strikes Keep Coming

If you were out on the streets on September 20, you could feel it. If you watched online or saw the stunning images, you could see it. The incredible energy of millions swarming towns and cities all across the planet, together calling for world leaders to finally get serious about the climate crisis.
Young activists were the catalyst here, of course, with the courage and moral clarity to do and inspire adults to follow their lead. Climate strikes had been happening all year (and continued), but this was the big one and a sign that culture was changing.
As just one indicator, major brands went dark for the day or officially joined the strike. Some – like Patagonia and Ben & Jerrys – were the those with a long track record of business activism, but others – like Lush cosmetics and bike giant Specialized – showed that something bigger was happening and awareness was going mainstream.
It was also, maybe just the prelude. With the 50th anniversary of Earth Day coming on April 22, activists are planning three days of strikes to once again force climate to the top of the policy agenda and build pressure for action in the US and at COP 26.
If the strikes keep coming and keep growing to millions and millions, it's a chance for regular people worldwide to fundamentally change our political priorities. Because there's only so long you can ignore the voice of the people and nature speaking together.
3. Following the Money out of Fossil Fuels

This month, the world's largest asset manager, BlackRock, made waves in the global investment community when CEO Larry Fink sent his annual letter to American CEOs. Entitled "A Fundamental Reshaping of Finance," the letter outlined a radical new set of investment priorities including:
"[M]aking sustainability integral to portfolio construction and risk management; exiting investments that present a high sustainability-related risk, such as thermal coal producers; launching new investment products that screen fossil fuels; and strengthening our commitment to sustainability and transparency in our investment stewardship activities."
Put into plain English, the gist of the letter is this: the world's largest fund manager thinks that it can make more money with investing in sustainable projects and that it will lose money investing in fossil fuel projects that drive climate change.
As commentators have noted, this was the right decision for the wrong reasons, ethically speaking. BlackRock hasn't chosen to leave fossil fuels because it's the right thing to do – it's been funding dirty energy projects for decades while the science has been crystal clear. It's just now convinced that doing so will lose money.
Regardless of the rationale, Fink's move is huge. Given BlackRock's resources – with a mind-boggling $6.28 trillion in assets under management – the decision to leave fossil fuels and support sustainable projects like renewables could fundamentally reshape who gets funding and reshape the face of the energy industry. Plus, given BlackRock's position in the investment world hierarchy, it's a safe bet that where it goes, others will follow.
The decision has the potential to be a turning point for industries far beyond finance. If C-suite executives believe they'll do better by choosing renewables over dirty energy, the wheels of capitalism finally start moving in the right direction and take us all toward a future we want. It's not enough to stop rising temperatures on its own, but we can't stop rising temperatures without it.
We'll be watching.
Learn More

You know what's at stake here. If you're ready to take action and help drive a global transition away from dirty fossil fuels, apply to train with former Vice President Al Gore as a Climate Reality Leader and gain the skills to move public opinion and organize your community for climate solutions. Not only that, but you'll join a community of over 21,000 other activists committed to solving the climate crisis and creating a healthy and sustainable future for the planet.
You always believed you could change the world. Now train as a Climate Reality Leader and learn how.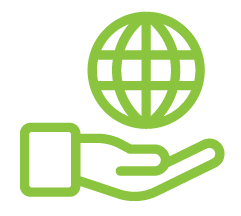 Before You Go
At Climate Reality, we work hard to create high-quality educational content like blogs, e-books, videos, and more to empower people all over the world to fight for climate solutions and stand together to drive the change we need. We are a nonprofit organization that believes there is hope in unity, and that together, we can build a safe, sustainable future.
But we can't do it without your help.
If you enjoyed what you've just read and would like to see more, please consider making a generous gift to support our ongoing work to fight climate denial and support solutions.